February 26, 2019
Last year, green bonds continued to demonstrate their potential as an important tool for financing clean growth that can produce economic profits as well as environmental rewards. Total green bond issuance in Canada grew by 56% in 2018, but the annual issuance fell just short of 2017's record, with C$5.5 billion in 2018 compared to C$5.6 billion in 2017.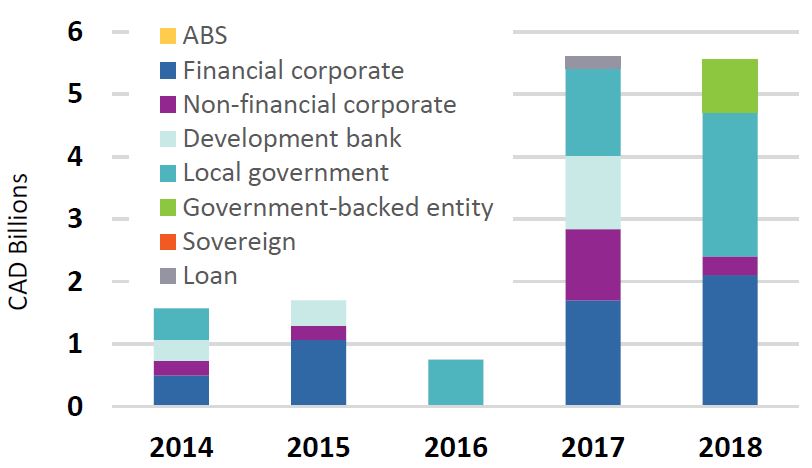 Green Bond Issuance in Canada
Proceeds from green bonds can be used to support a variety of investments for low-carbon growth, such as renewable energy generation, low-carbon transportation infrastructure, and energy efficient buildings. In Canada, transportation infrastructure like light rail is the most common use of green bonds by governments (77%), whereas bonds from financial institutions take a more diversified approach, with renewable energy leading the way (44%).
Traditionally, the green bond market in Canada has been led by sub-national issuers (Ontario and Quebec) and Export Development Canada, however issuance is increasingly coming from diverse sources. In May 2018, Manulife became the first insurance company to issue a green bond in Canada, with a C$600 million offering. A month later the Canada Pension Plan Investment Board (CPPIB) – the country's largest institutional investor – issued Canada's largest green bond to date, worth C$1.5 billion, and the world's first green bond by a pension fund.
Demand for green bonds continues to outpace supply. In early 2018, Ontario increased the size of one of its green bond offerings from C$500 million to $1 billion after receiving C$1.8 billion in investor orders and Canada Pension Plan Investment Board's (CPPIB) recent record-setting green bond issuance was also oversubscribed, by an estimated 80%. This year has already seen a fast start in green bond issuance, with bonds of C$500 million from Algonquin Power and Utilities Corp and Ontario Power Generation, as well as a JPY6.3 billion bond from Canadian Solar.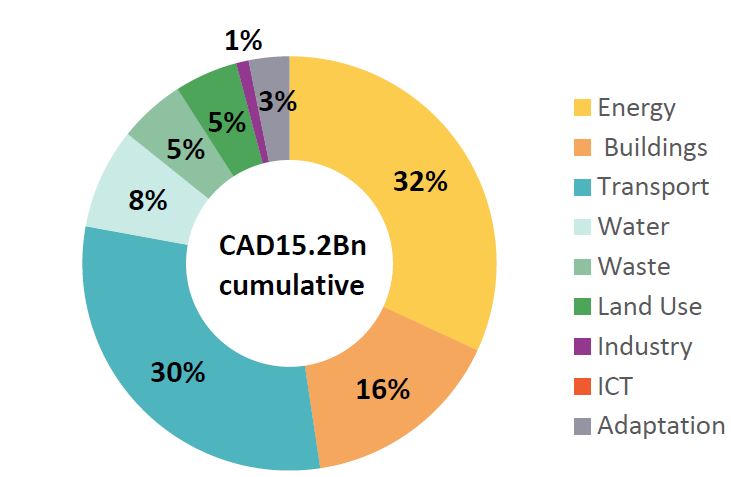 Use of Proceeds - Green Bonds in Canada
With the Expert Panel on Sustainable Finance poised to release their report this spring, it is important to take stock of Canada's progress in sustainable finance markets and explore opportunities for growth. Continuing to support the development of Canada's green bond market through climate risk disclosure and sovereign green bond issuance can help Canada emerge as a global leader in sustainable finance.
For more on the state of green bonds in Canada, see our newly-released Green Finance Country Update with Climate Bonds Initiative. To view past editions, please click here.