December 5, 2018
Today, the British Columbia government released their CleanBC climate plan. The plan charts out a path to achieve the province's ambitious goal of reducing greenhouse gas emissions by 40% below 2007 levels by 2030. It focusses on priority emissions sectors for B.C.: transportation, buildings, and industry. Notably, it goes beyond simply addressing climate change to charting a clean growth path with the aim of B.C. becoming a brand for sustainability. Specifically, the plan includes:
Transportation: (6Mt reduction)
Extend the low carbon fuel standard to a 20% reduction in emissions intensity by 2030 (from 10% below 2010 levels by 2020)
Announced earlier, the government has mandated all new vehicles sold after 2040 to be zero-emissions vehicles (with interim targets for 2030 and 2040)
Investment in EV charging infrastructure
Increase tailpipe emissions standards for vehicles sold after 2025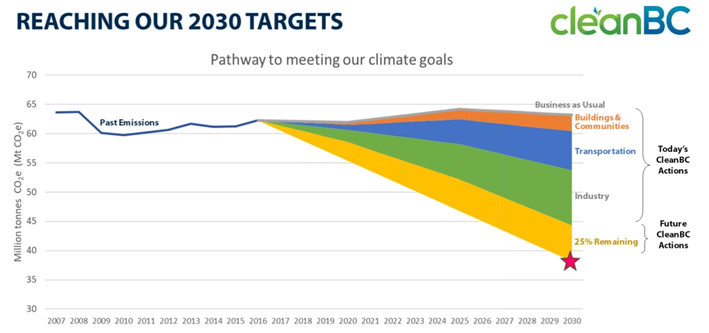 Buildings: (2Mt reduction)
Phased improvements in building code to be "net-zero energy ready" by 2032
Increase efficiency standards for heating equipment and windows
Incentives for home retrofitting of heat pumps and building envelopes
Energy efficiency upgrades to the stock of 51,000 public housing units
Increase renewable natural gas content to 15%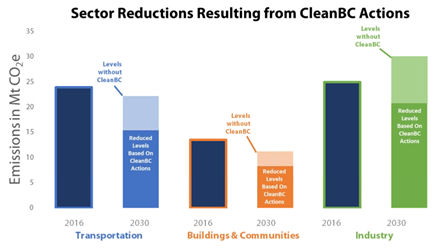 Industry: (8.4Mt reduction)
Direct the amount of B.C.'s carbon tax above $30/tonne paid by industry into incentives for cleaner operations, including performance-linked rebates of up to 100% for best-in-the-world performance; the remaining funds will be available to support emissions reduction projects by application
Reduce methane emissions from upstream oil and gas by 45%
Increase access to clean electricity with new transmission lines, including to power the new LNG Canada project in the Peace region
Last week, B.C. signed an MOU with the Business Council of British Columbia to work together to develop an industrial strategy that transitions B.C. into a low-carbon economy leader
The plan also works to ensure British Columbians are not left behind in the low-carbon transition, announcing a CleanBC Labour Readiness Plan to examine where opportunities will be, and what skills will be needed as well as training programs for new and mid-career workers to align skills with areas of future demand.
A key component of any good climate plan is ensuring it is durable. CleanBC sets out accountability measures by requiring comprehensive annual reporting under the Climate Change Accountability Act, and continuation of the independent Climate Solutions and Clean Growth Advisory Council (co-chaired by Smart Prosperity Leaders Merran Smith and Marcia Smith) to review progress and provide advice.
While the plan is light on details – 25% of reductions from measures yet to be announced and full costing promised in Budget 2019 – it outlines important steps to help the province transition to a low-carbon economy.