March 2, 2020
Guest post by Diying Wu
Shifting to clean growth is expected to present a global economic opportunity worth $26 trillion by the year 2030. Canada has the potential to capture a share of this clean growth opportunity, possessing a promising cadre of emerging cleantech firms that are poised for growth. However, Canada ranks behind its competitors on global indicators for regulatory performance: Canada has been ranked #38 in the world for its Burden of Government Regulation (2017-2018) and #22 in the world for its Ease of Doing Business Index (2019). Such regulatory burdens create barriers for investment and innovation, stifling Canada's ability to realize its clean growth potential.
The issue of regulatory burden is one which has been prioritized by the federal government in their regulatory modernization agenda. In November 2018, the Department of Finance released its Fall Economic Statement. This statement included investments to boost innovation and clean growth through initiatives to modernize the regulatory framework, including a Centre for Regulatory Innovation and External Advisory Committee on Regulatory Competitiveness. The statement followed recommendations from the Economic Sector Strategy Tables, which included specific tables for Resources and Clean Technology. The tables recognized that while lessening regulatory burden on business is important to boost competitiveness, it is also crucial to attain stringency of environmental policy to spur clean performance and innovation.
It is not trivial to achieve the best balance between minimizing regulatory burden and maintaining the stringency of environmental policies. One example of a program aimed at navigating the balance between the stringency and burden of regulations is Wisconsin's Green Tier program. A voluntary program by the state's Department of Natural Resources, Green Tier modifies enforcement procedures for firms that commit to achieving environmental goals in different ways, as long as they exceed regulatory standards. The program requires participants to adopt an Environmental Management System, and offers regulatory incentives such as deferred civil enforcement, permit streamlining, modified monitoring requirements, and alternative compliance methods. The Green Tier program is a voluntary self-monitoring program, and benefits from the regulatory oversight of the state's Department of Natural Resources. As a result, the program sparks both innovation and negotiation.
An Environmental Management System is a set of processes and practices that enable an organization to reduce its environmental impacts and increase its operating efficiency: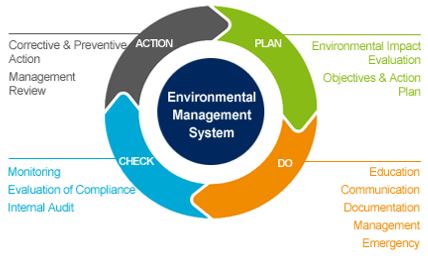 The Green Tier program has three levels of participation: 1) Tier 1 participants must commit to a formal Environmental Management System by the end of the first full year in the program; 2) Tier 2 participants must have an effective Environmental Management System and a history of superior environmental performance, and they can negotiate customized environmental contracts with the Department of Natural Resources; 3) Charter participants are associations committed to helping their members participate in Green Tier. Amongst the three participating levels, Tier 2 stands out for its customized environmental contracts, which may be the most innovative and valuable part of Green Tier, as they support both government efficiency and business competitiveness.

The Green Tier program has received rave reviews for its innovative design. In 2006, Green Tier was among 18 national finalists for the Innovations in American Government award by Harvard University's John F. Kennedy School of Government. In addition to providing regulatory flexibility to businesses that strive to excel in their environmental performance, Green Tier also reduces cost and streamlines compliance procedures by designating a specific contact person within the department for each program participant. As Canada seeks to grasp the economic opportunity within the global transition to a clean economy, there is a need for regulators to develop programs that reduce regulatory burden for clean innovators and improve environmental performance at the same time.
Canada could benefit from programs similar to Green Tier which encourage the free flow of information between local businesses and the state regulator. This builds dialogue and diminishes the information barrier between the private sector and the government, allowing the development of regulation that meets the needs of business as well as government. Furthermore, Green Tier demonstrates how encouraging companies to adopt Environmental Management Systems is one way of combining the seemingly disparate goals of stringency and flexibility to accelerate clean growth. Companies in Canada can become certified with Environmental Management Systems under ISO 14001 standards. In 2017, there were 1172 organizations registered under ISO 14001 in Canada, a decline from the peak number of 1778 organizations in 2012. Environmental Management Systems are also recognized by the Canadian federal government. For example, the federal Canadian Environmental Protection Act prescribes guidelines to encourage the employment of Environmental Management Systems in the code of practices for metal mines. When Canadian companies incorporate Environmental Management Systems into their business cycles, it becomes easier for the provincial and federal government to manage environmental compliance on a macro-level.
However, a potential challenge in scaling the success of the program would be the administrative burden of implementing such a program on a national scale because of the tailored profile for each participant. One key advantage of the Green Tier program is its relatively small scope within the state of Wisconsin, which makes it possible to designate one contact person from inside the Department of Natural Resources for each participating company. This close-knit structure minimizes the administrative burden that could otherwise discourage companies from participating. For Canada, one possible solution is to run similar programs on a provincial level, and have a designated office or team within the provincial government to handle administrative matters.
This piece was written by Diying Wu, a Work-Study Student at the Smart Prosperity Institute. Diying has been conducting research on agile regulations and sandboxes.