December 3, 2021
Guest post by Gabriel De Roche, Erick Lachapelle, Kathy Harrison, Parrish Bergquist, and Matto Mildenberger
In their November 23, 2021 Speech from the Throne, the Trudeau Government reiterated their belief that "growing the economy and protecting the environment go hand-in-hand." As the government considers more ways to support an economic recovery from the COVID-19 pandemic, they have an opportunity to incorporate significant investments in combatting climate change—investments that will also help grow Canada's economy.
And new research suggests Canadians will reward them for such an approach.
A team from the University of British Columbia, l'Université de Montréal, Georgetown University, and the University of California at Santa Barbara and San Diego have been researching public support for economic policies that will not only help Canada recover from the economic downturn wrought by the COVID-19 pandemic, but that will help deliver much-needed solutions to the ongoing climate crisis.
While some commentators may express concern that the COVID-19 pandemic might have weakened the sense of urgency Canadians feel around combatting climate change, we find the opposite: incorporating climate-friendly investments into an economic recovery package increases support for that package.
We surveyed 1,058 Canadians in June 2021, asking them to evaluate possible COVID-19 economic recovery packages. As part of this survey, we conducted a conjoint experiment, which consisted of showing study participants a pair of randomly generated policy packages and asking them to tell us which one they would support. In particular, we were focused on whether including climate-friendly policies would increase or decrease support for these economic recovery packages.
Our results are clear: including climate policies increases support for economic recovery packages across every climate policy option we tested.
When it comes to infrastructure investments (the blue data points in the figure below), spending on clean electricity generation and clean transportation increased support the most—by between 10 and 20 percentage points. Including investments in fossil fuel infrastructure received the same level of support as if no infrastructure investments were included at all.
Among the climate-specific policies we tested for inclusion in a COVID-19 economic recovery package (the green data points in the figure), each one increased support for the package. The most popular measure was to condition support for businesses on a requirement that they reduce pollution (+18% support), followed by measures to provide retraining to those Canadians currently employed in polluting industries such as oil, coal, and gas (+13%). Finally, excluding oil, coal, and gas companies from receiving assistance increased support for the policy package by 9%.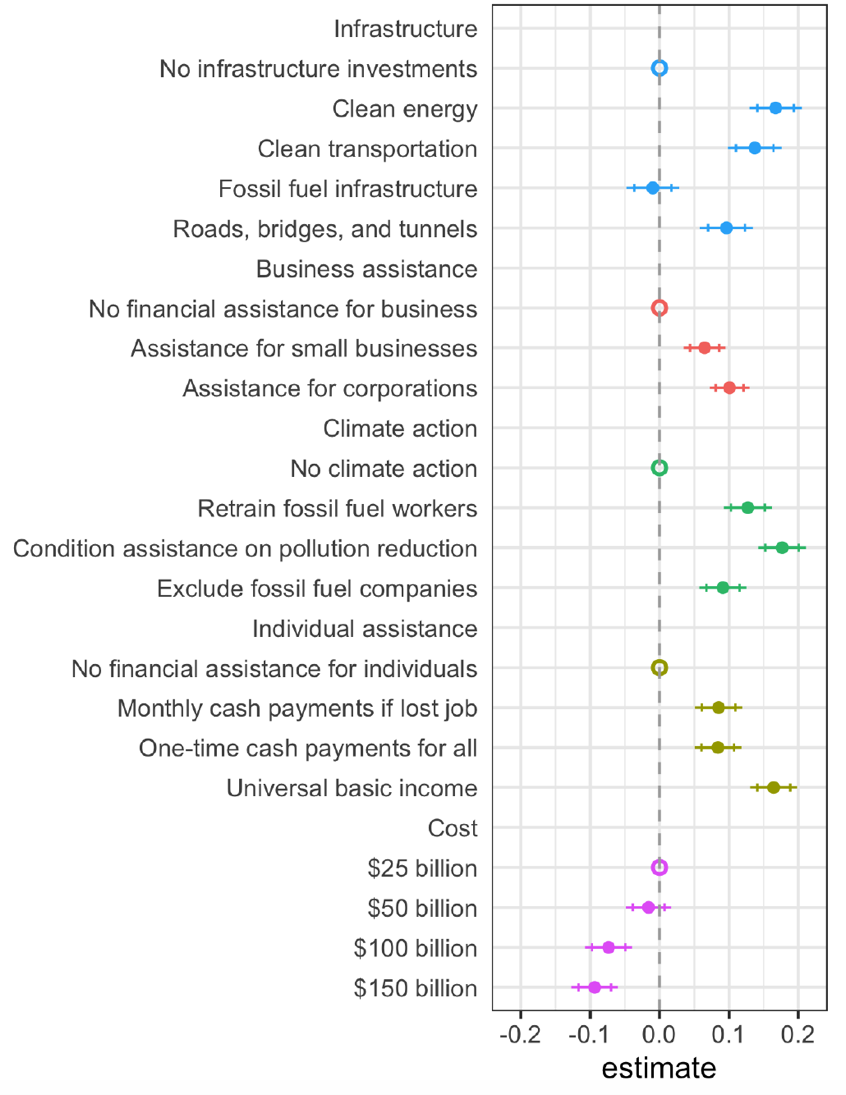 We conclude from these results that Canadians favour a climate-friendly economic recovery from the COVID-19 pandemic. As the new Trudeau government moves through its budgeting process, they have the opportunity to incorporate climate-friendly economic policy in a way that increases Canadians' support for this recovery effort.
And while the COVID-19 pandemic certainly presented the government with an unprecedented crisis of one kind, Canadians support an approach to managing the economic effects of the pandemic that also takes action on the crisis of climate change.
With the negative effects of climate change becoming more and more visceral for Canadians given the tragedies of wildfires, heatwaves, and now catastrophic flooding in British Columbia, the impact of the climate crisis on the lives and livelihoods of Canadians demands economic policy that not only helps Canada rebuild, but that makes real progress on fighting climate change.
It's an approach that couples—in the words of the Trudeau government's own Throne Speech—"growing the economy and protecting the environment." And it's an approach that Canadians support.