June 15, 2023
By Christine Desrochers, Michael Twigg, and Sushant
For World Ocean Day, we wrote an op-ed in the National Observer arguing that Canada must invest in the ocean as an economic driver. Due to substantial public interest and the fantastic feedback received, we have decided to take a deeper dive into "blue conservation economies" and the work we are doing at Smart Prosperity Institute (SPI).
Canada and the world have recently committed to protecting 30% of land and ocean areas by 2030. Provinces and territories have now agreed to cooperate with the federal government towards this "30 by 30" goal. With the world's longest shoreline, this is a huge opportunity for Canada to protect some of the most vulnerable marine ecosystems in the world. How we do this will have far-reaching consequences for the ocean and the people whose livelihoods depend on it.
Blue conservation economies are gaining in popularity as a solution to establishing new marine protected areas while supporting coastal communities – a triple-win for the economy, people, and the environment. This exciting approach is moving forward in Canada with world-leading Inuit-led initiatives in the Arctic. At SPI, we are analysing the economics of these case studies to help build the business case for more investments in blue conservation economies and ocean protection.
What is a blue conservation economy?
Blue conservation economies can thrive within marine protected areas, where local communities derive wealth through restoring and sustainably using natural resources
A conservation economy restores natural and social capital rather than depleting it. Communities steward the land and waters for the benefit of future generations, with economic wealth generated from the sustainable use of natural resources. This approach also creates various key co-benefits, such as community health and resilience.
In a blue conservation economy, the protected area is marine-based. The coastal communities involved in a blue conservation economy have a close connection to the ocean, often deriving much of their livelihoods from it. Examples of activities that could be involved in a blue conservation economy include sustainably-managed fisheries, eco-tourism, research and monitoring, tidal or wind energy, growing and harvesting kelp forests, restoring coral reefs or mangroves, or anything else that uses marine resources sustainably.
Coastal areas generate 61 percent of global GDP and the livelihoods of more than three billion people directly depend on the ocean. Investing in healthy marine ecosystems will support and grow this global economic driver for long-term human prosperity.
World-leading approach: Inuit-led Blue Conservation Economies
Nunavut and many Inuit communities are emerging as world leaders by establishing new marine protected areas and investing in the blue conservation economy of the Arctic.
Arctic waters provide critical habitats for key marine species such as whales, seals, walruses, seabirds, and polar bears. These ecosystems are under increasing threat from climate change, international shipping, and northern resource extraction. Inuit communities are also suffering, since their livelihoods and culture are deeply linked to the unique marine ecosystem and species of the Arctic.
Inuit communities have long been stewards of the land and ocean. The Qikiqtani Inuit Association, in partnership with the governments of Canada and Nunavut, has recently contributed more than 40 million hectares of marine protected areas in the Arctic – half of Canada's current total. The two projects involved cover vast areas of the north and are critical for habitat and cultural preservation: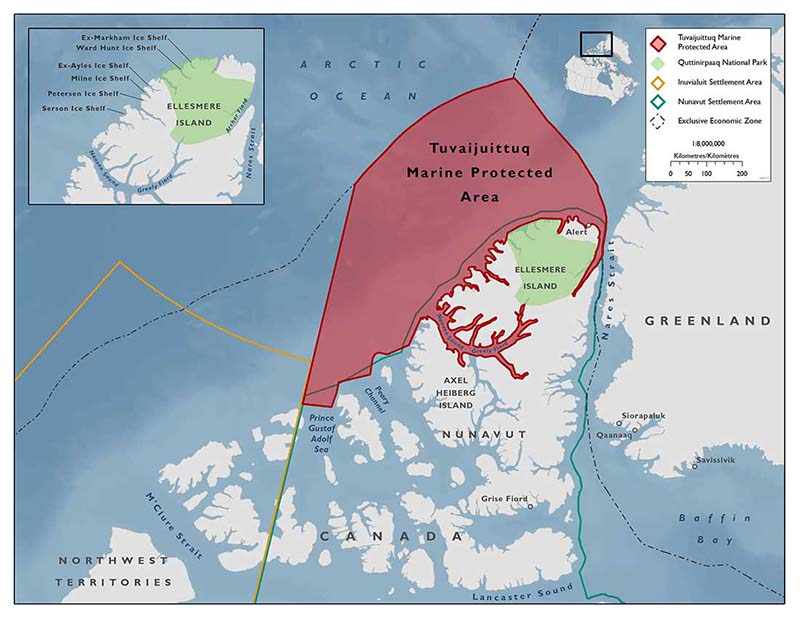 The Tuvaijuittuq Marine Protected Area spans almost 32 million hectares in the High Arctic Basin, a remote region with the oldest and thickest sea ice in the Arctic. As Arctic sea ice continues to decline, this area is expected to be the final habitat for ice-dependent species like seals and polar bears.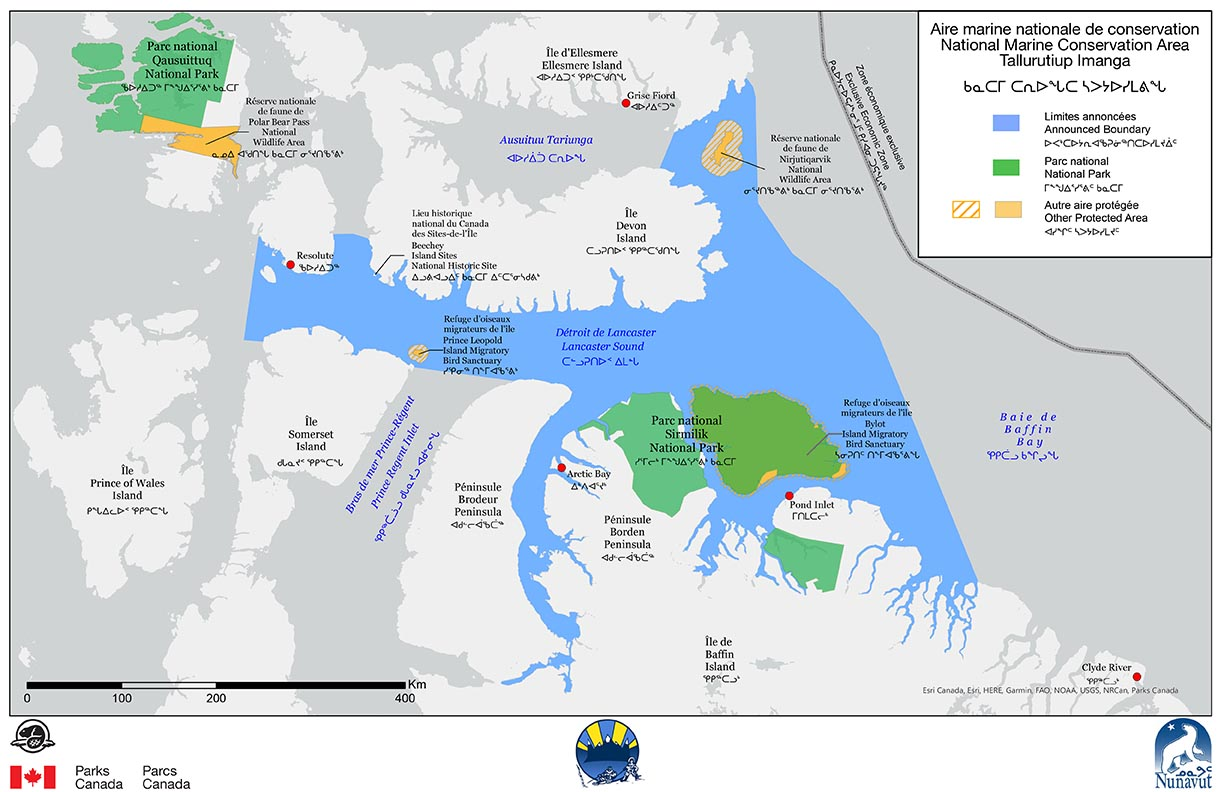 The Tallurutiup Imanga National Marine Conservation Area is 11 million hectares of protected marine habitat for key species like the beluga, narwhal, and bowhead whale. The Inuit who live in this region rely on the marine ecosystem as an essential resource.
These two projects were made possible through the signing of an Inuit Impact and Benefit Agreement (IIBA), committing to Inuit co-management and stewardship. The incorporation of Inuit traditional knowledge (Inuit Qauijimajatuqangit) is fundamental to this agreement, creating an unprecedented opportunity to strengthen partnerships and invest in the Arctic blue conservation economy.
As part of this IIBA, Parks Canada is investing $17.8 million over seven years to establish the Tallurutiup Imanga Inuit Stewardship Program. This program will support collaborative management and sustainable economic opportunities in the region, including the blue conservation economy. The promotion of Inuit culture and well-being is a key objective of the program, creating multiple co-benefits for the communities.
Many communities now see marine protection as a way to build their local economies, demonstrating that ocean protection is not a barrier to growth, but a catalyst.
Making the business case for blue conservation economies
In partnership with the World Wildlife Fund (WWF), SPI is working towards supporting the creation of blue conservation economies across Nunavut. In winter 2023, SPI visited the northernmost mainland community of Taloyoak to help to identify innovative pathways for local development. Some key investment opportunities have been identified and will be further explored in our upcoming work:
Arctic country food is an essential part of Inuit diet and culture. Sustainable harvesting of animals such as fish, caribou, and seals forms the backbone of local economies in coastal communities across Nunavut. Investment in facilities and equipment could drastically improve country food harvesting outcomes and increase accessibility of healthy and nutritious foods.
Inuit Guardians are skilled community members who play a key role in Stewardship Programs. They are engaged to monitor the region, train and educate youth in traditional knowledge, and harvest country food to share with the wider community. Guardians are a source of vital cultural knowledge and skills. Increased investment in these programs can provide valuable environmental research data and generate many additional co-benefits for the community.
Eco-tourism is a complementary industry that could provide additional employment and income opportunities. Communities could choose to offer sports hunting and fishing excursions, marine or land-based wildlife viewing tours, cultural experiences, or sell arts and craft souvenirs. In Nunavut, the tourism industry currently generates about $100 million annually, which can grow if investments are made in training opportunities for potential guides and operators.
A blue way forward
Blue conservation economies incentivise ocean conservation by framing it as an opportunity for growth and development, rather than a barrier. Using this approach, Canada is positioned to become a world leader in ocean protection and management for the benefit of people and the planet. It would be a triple-win: protect our environment, grow our economy, and take meaningful steps toward reconciliation.